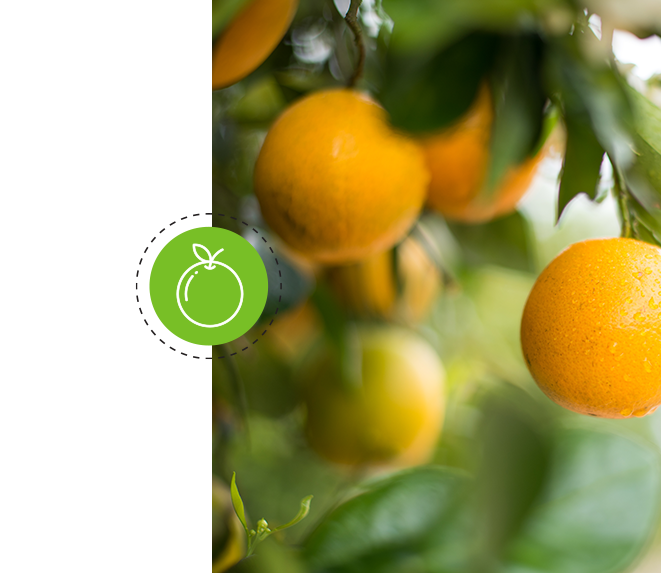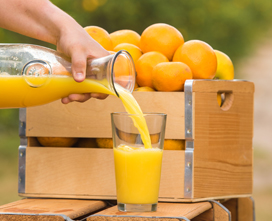 Florida Citrus
Florida's sunshine, sub-tropical weather and well-drained soils create perfect conditions to grow the sweetest, juiciest citrus.
Florida ranks second in the nation in total citrus production, continues to be the top producer of juicing oranges and grapefruit, and is the leading shipper of all citrus east of the Mississippi.
Whether for eating or juicing, consumers prefer the clean, fresh, wholesome taste of Florida citrus.
Our Varieties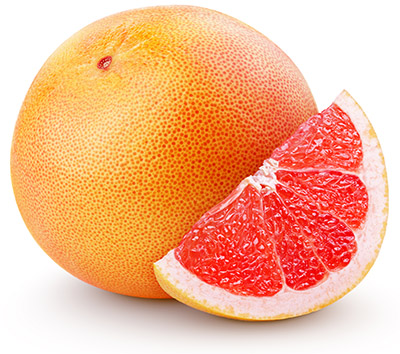 Grapefruits
Star Ruby
The quintessential pink grapefruit for taste, flavor and appearance. Featuring a yellow-orange rind with a blush of rose, Star Rubies are juicy with a sweet-tart flavor and contains few, if any, seeds.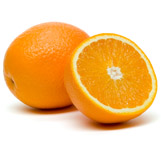 Oranges
Hamlin
One of the top juice orange varieties, Hamlins are very juicy with low acidity. The large, deep yellow fruit is easily peeled, with minimal seeds.
Navel
Seedless, easily peeled, and very sweet, Navels are considered one of the world's best-tasting oranges. This is the most common orange used in food service and sold at retail.
Pineapple
The oldest cultivated citrus variety in Florida, its name originates not from the flavor but from the delicate pineapple fragrance the blossoms emit. The fruit is medium to large size, round to oval, orange color, pebbly peel, moderately seedy.
Red Navel
Also known as Cara Caras, this variety combines the classic flavor of a Florida Navel Orange with a brilliant red interior. Thin skinned, seedless and easy to peel and section, the natural red color is due to an increased amount of lycopene.
Sour
Small to medium in size, juicy and acidic, with a bitter taste, Sour oranges are commonly used for cooking. The rough skin transitions from green when young to red-orange when mature and is thick and aromatic, while the pale orange flesh is firm, containing small seeds.
Valencia
Medium to large in size, with a balanced, sweet-tart flavor, golden-orange Valencias are known for their tender, extremely juicy flesh with minimal seeds. Though the rind is thin, the pith clings tightly to the flesh making the fruit somewhat difficult to peel, making this variety optimal for juicing versus eating.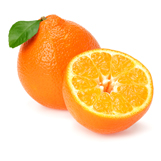 Tangelos
Honey Bell
Medium to large in size, Honey Bells have a distinct shape, with a slightly elongated neck and a bulge at the stem end. Easy to peel, this seedless variety is extremely juicy and soft with honey-sweet mixed with tart and tangy flavors.

Tangerines
Early Pride
A large seedless variety similar to Fall Glo in appearance and flavor, this fruit allows an early start to our season.
Fall Glo
A fairly large, seeded tangerine, Fall Glos feature a deep reddish-orange peel and a somewhat flattened shape.
Sugarbell
The Sugarbell's bright orange, bell-shaped fruit is sweet and juicy, easy to peel and practically seedless. It has a rich-tasting, robust fusion of sweet-tart flavors due to its acid content.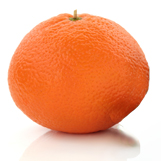 Mandarins
Orri
With a thin, bright red-orange pebbly rind, Orris are a large, seeded variety with a bright and tangy flavor that balances sweetness and tartness. The flesh is tender and very juicy.
Tango
A medium to large seedless variety, Tangos have a thin, smooth and glossy dark-orange rind. Tangos are known for their tender, succulent, and juicy flesh with moderate sugar and acidity levels, contributing to a balanced, sweet-tart and tangy flavor.
Temple
With a thick and pebbly but easy to peel deep reddish-orange rind, these large mandarins have a slightly flattened shape and a short, wrinkled neck. The flesh is a mild orange color, tender, juicy and rich in flavor.
Packouts
(Custom packs and labeling available upon request)
4/5 bushel packed

4/5 bushel volume fill

2/5 bushel gift pack

5 lb. box

2, 3, 4, 5, 8, 10 and 15 lb. bags

Bulk bins
Seasonal Availability